I have visited 43 States, 50 countries, and over 6 continents, but I've never been to Honolulu, Hawaii.  It feels funny saying that, but a lot of other people have never been to Hawaii either.  I guess when you refer to yourself, as World Wide Nate visiting Hawaii is a prerequisite.  Hawaii has been on my list for a while, specifically Maui and its black sand beach.   It's mid-February and Pisces season has kicked off and I have a gang of friends with late February and March birthdays.  My timeline is filling up with birthday status updates, photos and the pressure to do something big for my birthday is gaining steam.  I love celebrating birthdays, especially mine.  This year I moved into a new place and other business ventures have taken up my bandwidth, so I said to myself, I'll go easy this birthday and chill out in LA.
However, the travel Gods know how to get me to an airport at the right time.  After trying to figure out a cost-effective way to visit Maui, I failed miserably.  My budget simply couldn't afford it and something told me to consider Honolulu.  I used points from my American Express and booked the Hilton Hawaiian Village Rainbow Tower on American Express Travel.  I charge the majority of my expenses to my Amex, so when last minute trips come up, I can use my points and avoid paying inflated prices.
DAY ONE
I'm not a big resort fan, but the Hilton Hawaiian Village was impressive.  When I arrived, check-in ran like a well-oiled machine.  The customer service was amazing and I was upgraded to an ocean view room.  The property has four different towers, 20 restaurant and bar options and a Louis Vuitton store on-site.  The ocean front view from my room was spectacular, even on a cloudy day.  The forecast predicated 80-100% chance of rain for my trip.  Luckily, the rain broke after I checked in and got a chance to explore the property.  The resort is literally one step away from Waikiki Beach.  If you're a beach lover you should consider staying here on your next visit.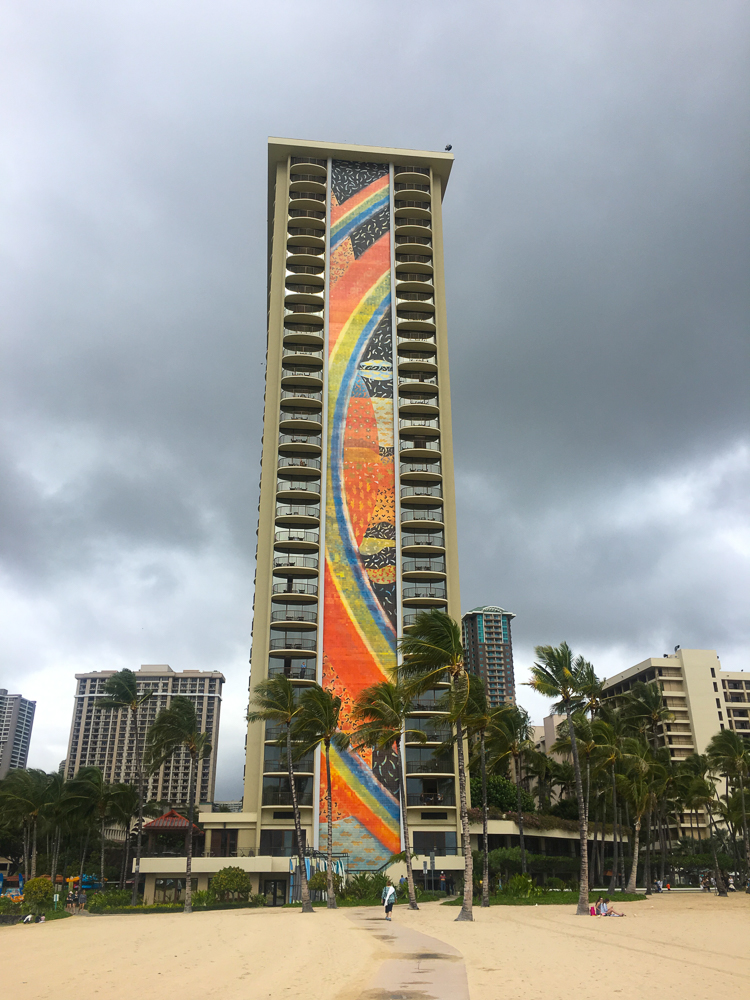 A couple of hours pass and it's time to eat.  I heard the pork chops at Side Street Inn are the best.  There are two locations; I dined at the Hopaka St. location, which is no-frills.  It reminds you of an 80's sports bar with its leather wrapped counter top.   I had to sit at the bar since they take reservations and were booked, so call ahead especially if you have a group.  The pan-fried island pork chops were fresh, tender and hit the spot. I had to ask my waiter if they chopped the pigs up in the back, because the chops were so fresh.  I also suggest trying the Lilikoi BBQ baby back ribs, spicy chicken, side street works fried rice and sautéed mushrooms.
DAY TWO
The next day, I woke up around 7am, pulled back the curtains and the sun was shining with all its glory; I'm talking about clear blue skies!  I hurried outside to run a 5k down Waikiki Beach.  The run was a great way to take in how beautiful Waikiki Beach is, see more of Honolulu and check out the personality of the guests at the different hotels lining the shore.  I finished up my run with an ab circuit at the Hilton's gym.
After breakfast, I probably did the most counterproductive thing possible; I went to a Happy Hour at Arnold's Beach Bar.  The Happy Hour is from 10a-6p and they serve Mai Tai's for $4.50.  How can you not pre-game lunch with Happy Hour, when you're in paradise?  I was well on my way down a slippery slope, because after Arnold's I went to another Happy Hour at Wailana Coffee House Honolulu for more drinks and their wings.  By this time, all the benefits of my morning workout went out the window.  However, I have no regrets, Wailana's Happy Hour is from Noon-6pm.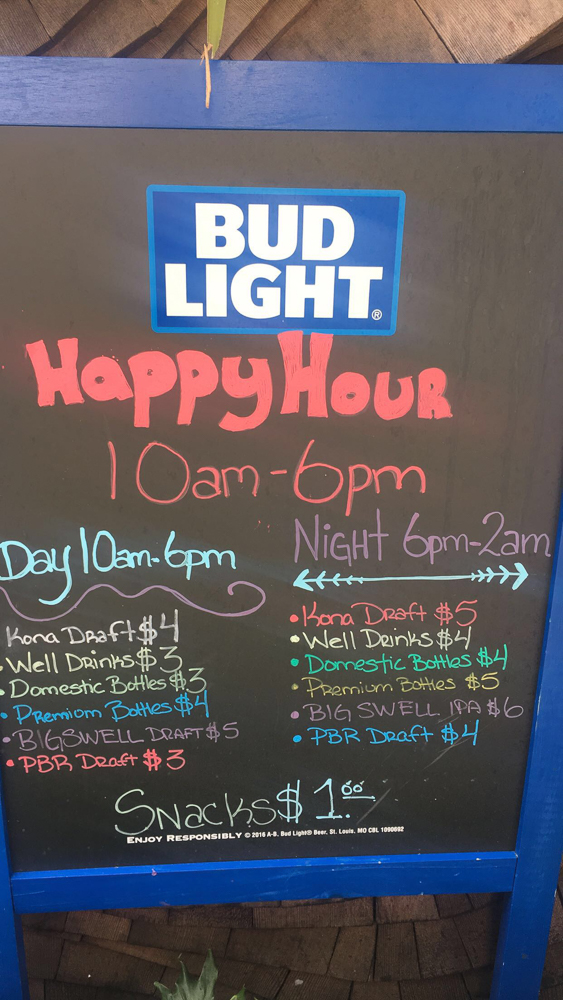 Back at the Hilton, with the sun still shining bright, I spent the rest of the afternoon on the beach.   My flight was schedule for 10pm that evening and the Hilton showed me more great customer service by offering me a courtesy room to shower before my flight.  Operating on a few hours left in my day, I grabbed some food at Tropics, which has a delicious quinoa and kale salad.
While enjoying my last meal, the rain came back with a fury.  I paid for my meal and decided to run on the beach in the rain.  What the hell, right?  I'm in Honolulu celebrating my birthday.  I was one of two people on the beach in a rain storm.  The other guy was in the water with a metal detector combing for treasure, random!  I would only advise this if there is not lightning, but one day, you have to go for a run on the beach in the rain and enjoy nature.  Don't forget to remove all electronics and non-waterproof wristwatches too.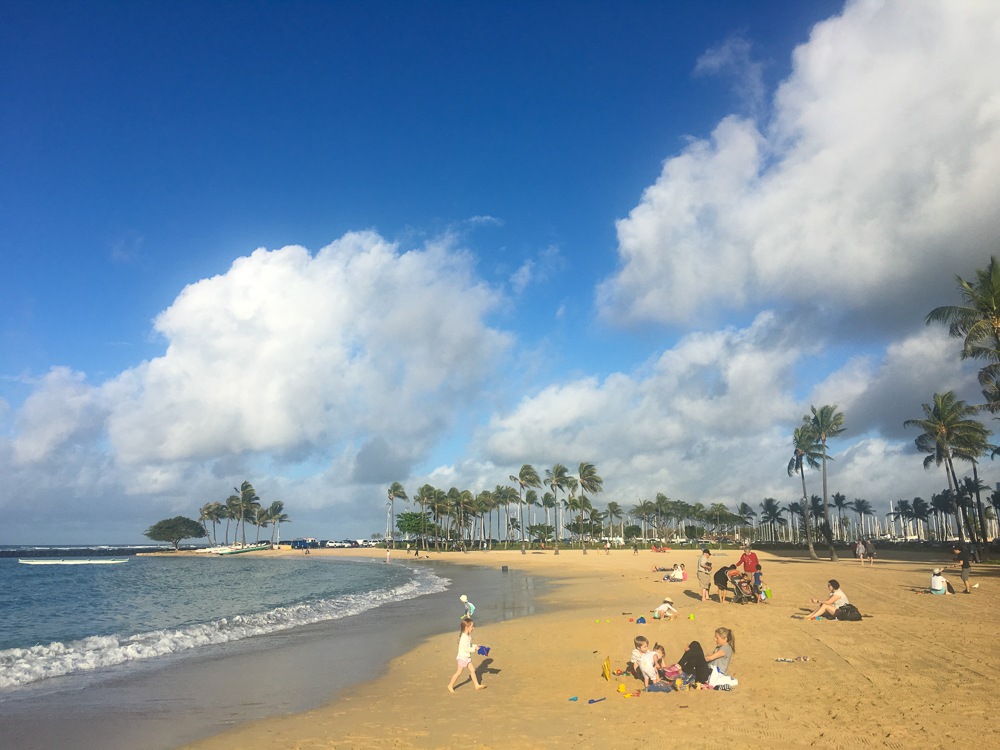 My time is in Hawaii is up.  I head to my courtesy room to shower and get dressed for my flight back to the mainland.  Hawaii became the 44th State I visited and ironically is the home of our 44th President Barack Obama.  Aloha!
Comments